Board of Directors
2012-2013 NDNA Board of Directors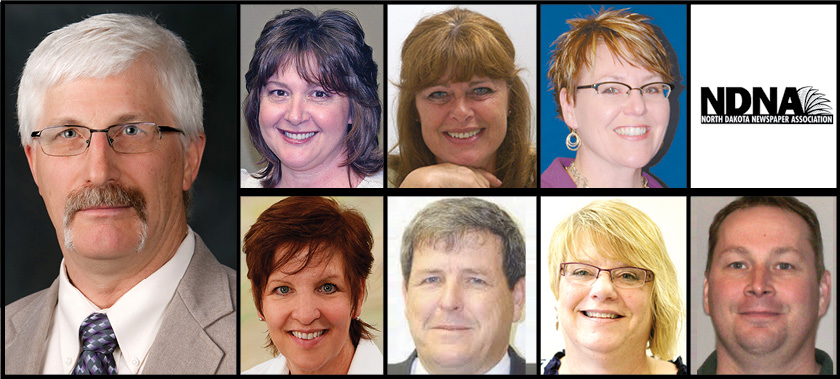 Far left: President Jill Friesz, Grant County News (Elgin) / Carson.
Top row, left to right: First Vice President Tom Monilaws, Traill County Tribune (Mayville); Second Vice President Cecile Krimm, The Journal (Crosby) / Tioga Tribune; Past President Kathleen Leinen, The Daily News (Wahpeton) / News-Monitor (Hankinson).
Bottom row, left to right: Directors Jill Denning Gackle, BHG Inc. (Garrison); Melody Owen, Tri-County News (Gackle) and Sara J. Plum, Benson County Farmers Press (Minnewaukan).
Executive Committee
President
Jill Freisz
Grant County News/Carson Press
PO Box 100
Elgin, ND 58533
701.584.2900
1st Vice President
Tom Monilaws
Traill County Tribune
PO Box 567
Mayville, ND 58257
701.788.3281
2nd Vice President
Cecile Krimm
The Journal
PO Box E
Crosby, ND 58730
701.965.6088
Past President
Kathleen Leinen
News-Monitor
PO Box 190
Hankinson, ND 58041
701.242.7696
Directors
Jill Denning Gackle
BHG Inc.
PO Box 309
Garrison, ND 58540
701.463.2201
Melody Owen
Tri-County News
PO Box 214
Gackle, ND 58442
701.485.3550
Sara J. Plum
Benson County Farmers Press
PO Box 98
Minnewaukan, ND 58351
701.473.5436