Board of Directors
2018-2019 NDNA Board of Directors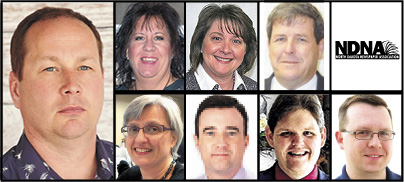 Far left: President Paul Erdelt, Steele Ozone & Kidder County Press.
Top row, left to right: First Vice President Karen Speidel, News-Monitor, Hankinson; Second Vice President Cecile Wehrman, The Journal (Crosby); and Past President Harvey Brock, The Dickinson Press.
Bottom row, left to right: Directors Leah Burke, Emmons County Record (Linton); Matt Von Pinnon, The Forum of Fargo-Moorhead, Chris Slone, Country Media (Bowman), and Cole Short, Hillsboro Banner.
Executive Committee
President
Paul Erdelt
Steele Ozone & Kidder County Press
PO Box 350
Steele, ND 58482
701.475.2513
1st Vice President
Karen Speidel
News-Monitor, Hankinson
PO Box 760
Wahpeton, ND 58074
701.642.8585
2nd Vice President
Cecile Wehrman
The Journal
PO Box E
Crosby, ND 58730
701-965-6088
Past President
Harvey Brock
The Dickinson Press
PO Box 1367
Dickinson, ND 58601
701.225-8111
Directors
Leah Burke
Emmons County Record
PO Box 38
Linton, ND 58552
701.254.4537
Matt Von Pinnon
The Forum of Fargo-Moorhead
PO Box 2020
Fargo, ND 58107
701.241.5579
Chris Slone
Country Media/Bowman County Pioneer
PO Box F
Bowman, ND 58623
701.523-5623
Cole Short
Hillsboro Banner
PO Box 39
Hillsboro, ND 58045
701.636-4241