Dakota Journalists
(on Podbean)
This series brings to life the oral histories of journalists in North and South Dakota – newspaper legends who devoted their lives to covering their rural communities.​ Listen here.
---
Oral histories of
North Dakota Journalists
The oral history projects below are designed to preserve the history of the people who spent their careers preserving the history of North Dakota and its communities. The following video clips are highlights from in depth interviews of North Dakota journalists. The clips also are on display on an electronic kiosk at the new North Dakota Heritage Center in Bismarck. The full video interviews are preserved and are available for viewing at the North Dakota State Archives at the Heritage Center. Additional oral history interviews will be added to the collection as they are completed.
John M. Andrist
Former Editor and Publisher
The Journal, Crosby, ND
View highlights of John's full interview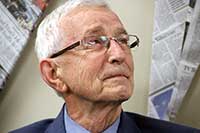 Andrist (1931-2018 ) grew up working for his father, Calvin Andrist, at the Divide County Journal in Crosby. After taking over the family newspaper, he began climbing a ladder that would take him to the presidency of the North Dakota Newspaper Association and eventually the National Newspaper Association. He continues to write a weekly column that first appeared in the late 1950s.
In 2002, he received the Amos Award, the National Newspaper Association's highest honor, for distinguished service to the community press. He is a recipient of the North Dakota National Leadership Award of Excellence, presented by Gov. George Sinner.
After many years on the board of the North Dakota Newspaper Association Education Foundation, he was bestowed with honorary lifetime membership. He also achieved lifetime membership with the Society of Professional Journalists, and is enshrined in the North Dakota Newspaper Hall of Fame.
After selling the newspaper to his son in 1991, he was elected to the North Dakota Senate and served continuously through 2014.
William C. Marcil
Former CEO, Forum Communications
Former Publisher, The Forum, Fargo, ND
View highlights of William's full interview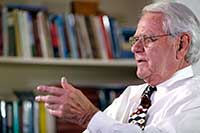 Marcil started his newspaper career as a retail ad salesman at The Forum in the early 1960s and by 1969 was promoted to president and publisher. Under his leadership, Forum Communications Co. grew to include 10 daily and 30 community newspapers in three states, five commercial printing plants, four TV stations and a radio station.
In 1983 became the first North Dakotan elected Chairman of American Newspaper Publishers Association (now Newspaper Association of America), and moved on to become chairman of the U.S. Chamber of Commerce, and later chairman of the Greater North Dakota Chamber.
He is a past president of the North Dakota Chapter of Sigma Delta Chi and Fargo Chamber of Commerce, and has been a director of the North Dakota Newspaper Association, the Northern Lights Council of the Boy Scouts of America, United Way of Fargo-Moorhead, and the Minnesota State University-Moorhead Development Foundation.
Marcil received the alumni achievement award from UND in 1990; the Ralph D. Casey University of Minnesota Award for Distinguished Service in Journalism in 1993; an Honorary Doctorate of Letters from North Dakota State University in 1993; and the Schafer Excellence in Enterprise Award from the University of Mary, Bismarck, in 2003.
After many years on the board of the North Dakota Newspaper Association Education Foundation, he was bestowed with honorary lifetime membership. He also is enshrined in the North Dakota Newspaper Hall of Fame.
Marlyn Hagerty
Columnist
The Grand Forks Herald, Grand Forks, ND
View highlights of Marlyn's full interview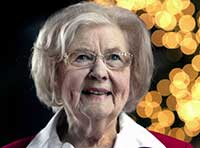 Hagerty (1926 - ) began her newspaper career in the 1940s when she was a high school student and worked for the Pierre, Capital Journal in South Dakota. She started working at the Grand Forks Herald in 1957, when her late husband Jack Hagerty became editor of the paper. By the 1970s, Hagerty had a regular column, and she also began a column of historical reminiscences, That Reminds Me. She was reviewing restaurants at least by mid 70s. She retired from full-time newspapering in 1991, but soon resumed writing five columns a week for the Herald.
Hagerty appeared in various national media in 2012 when her review of a new Olive Garden restaurant in Grand Forks, was noticed by online news aggregators and became an overnight sensation among both critics and admirers.
She was awarded the 2012 Al Neuharth Award for Excellence in the Media.
Roger Bailey
Former Editor and Publisher, Turtle Mountain Star, Rolla, ND
Former Executive Director, N.D. Newspapers Association, Bismarck, ND
View highlights of Roger's full interview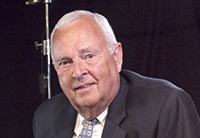 Roger Bailey was inducted into the North Dakota Newspaper Hall of Fame in 2014. That came nearly 50 years after he learned to operate the Linotype and the presses at a small letterpress newspaper his parents operated in Bertha, Minn.
In college at Moorhead State he was reporter, editor and student advisor of the student newspaper, and after graduating he held several jobs at KTHI-TV in Fargo -- including weather man. In 1973 he became editor and publisher of the Turtle Mountain Star in Rolla, and turned it into the largest circulation and most decorated weekly newspaper in the state. In 1982 he served as president of the North Dakota Newspaper Association.
He sold the Turtle Mountain Star in 1998, then spent 13 years as executive director of NDNA. With him through it all was his best friend and wife, Ingrid.
Richard Peterson
Former Editor and Publisher
Benson County Farmers Press, Minnewaukan, ND
View highlights of Richard's full interview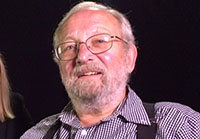 Richard Peterson's affiliation with the Benson County Farmers Press in 'Minnewaukan started in 1959 while he was in college and continued until 2014 when he sold the newspaper and retired.
Richard's association with the Farmers Press wasn't continuous, because he took time out to get an economics degree, and later to serve a three-year hitch in the Army, including service in Vietnam. He returned to edit the Farmers Press in August of 1970, added the publisher title a month later, and continued to operate the Farmers Press until his retirement.
During that time he was a community leader in 'Minnewaukan, including a stint as mayor, and was known for his weekly column.
Bob Lind
Former Editor and Publisher, Larimore Pioneer, Larimore, ND
Former Editor, The Forum, Fargo, ND
View highlights of Bob's full interview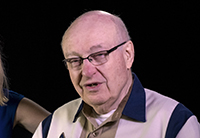 Bob Lind was born in Grand Forks, served in the U.S. Army from 1952-1955, and graduated from the University of Minnesota in 1957.
His newspaper career began as editor of the Spring Valley (Minnesota) Tribune from 1957 to 1961. From 1961 to 1968 he owned and operated the Larimore Pioneer in North Dakota. He joined The Forum in 1969 and has been a copy editor, night editor, assistant city editor and features writer.
He retired in 1998 but continues to the write The Forum's popular "Neighbors" feature several times each week.
Jane Brandt
Publisher/Editor
Hebron Herald and Richardton Merchant
View highlights of Jane's full interview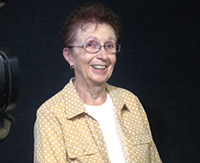 Brandt (1940- ) arrived in Hebron in 1965 intending to be a stay-at-home mom while her first husband pursued his newspaper career at the Hebron Herald. The arrangement lasted three days. Called in to help, she hasn't left the paper since and took sole control of the weekly in the early 1970s. Soon after, she also became publisher of the Richardton Merchant.
Throughout her career, Brandt was active with the North Dakota Press Women/ North Dakota Professional Communicators and was honored with a national Communicator of Achievement award. She co-published In the Beginning, Hebron, North Dakota, 1876 to 1912, and helped compile a 600-page book of photos and family histories for Hebron's centennial.
Once a stranger who didn't understand the German spoken in town, Brandt has dedicated more than five decades to recording and preserving the history of these small western North Dakota communities.
Mike Jacobs
Former Editor/Publisher
Grand Forks Herald
View highlights of Mike's full interview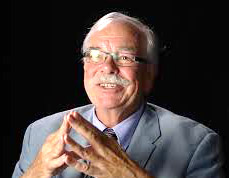 Jacobs (1947- ) published his first newspaper, the Jacobs Journal, as an eighth-grader, a foreshadow of his rise to become one of the state's most prominent publishers. Before taking control of The Grand Forks Herald in 2004, Jacobs worked as editor of UND's Dakota Student, reporter for The Dickinson Press, managing editor of the Morning Pioneer in Mandan, and publisher of The Onlooker. In 1979, he began his long career with the Herald as the Bismarck bureau reporter, eventually becoming editor and publisher in Grand Forks.
As editor, Jacobs guided his team to a Pulitzer Prize for the Herald's coverage of the 1997 flood. In 1998, he received the National Press Foundation's Editor of The Year Award. Well-known for his political commentary, Jacobs continues to support the newspaper industry in North Dakota after retiring from The Herald in 2014.
Truman Ness
Publisher
Ness Press
View highlights of Truman's full interview
Ness (1935- ) continues the newspaper legacy established by his father G.K. Ness in Fordville in 1922 and today publishes 10 small community newspapers in eastern North Dakota.
Ness began his long newspaper career by helping his father with printing work during his teenage years. After attending college at UND, he was drafted and spent two years in the Army. In the early 1960s, he and his brother Gunnard took over the family business, where he has remained since. He now oversees publication of the Tri-County Sun in Fordville, the Adams Standard, the Aneta Star, the Edmore Herald, the Hatton Free Press, the Larimore Leader/Tribune, The Messenger in McVille, the Nelson County Arena in Michigan, and the Pembina New Era.
Ness believes it's good for a town to have its own identity and that a local newspaper helps keep a community together. NDNA recognized Ness for his 50 years of service to the industry in 2010.
Linda Sailer
Reporter
The Dickinson Press
View highlights of Linda's full interview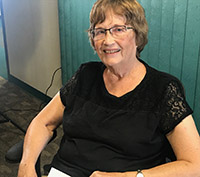 Sailer (1948- ) started at The Dickinson Press in 1970 and expected to stay just a few months until she began her intended career as a teacher. Nearly 50 years later, Sailer is unmistakably the heart and soul of the paper not only due to her long tenure but her excellence in lifestyle reporting.
Sailer began her journalism career by typing obits and stories on a little typewriter before transitioning to lifestyles editor and reporter. Her coverage has ranged from a veterinarian who built a house out of straw to numerous Make-A-Wish stories to features arising from the 1980s and 2010s oil booms in western North Dakota.
Sailer is proud of her work in "soft news," believing these stories change people's lives and allow her to provide a voice for her community.
She has received top awards from the National Federation of Press Women and won the state Communicator of Achievement award from the North Dakota Press Women.
Jack Zaleski
Editorial Page Editor
The Forum
View highlights of Jack's full interview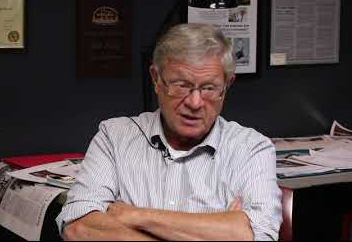 Jack Zaleski (1946- ) first became familiar with journalism through his father, a printer/linotype operator who took him to printers union meetings in New Britain, Connecticut, when he was a child.
Zaleski attended the University of Connecticut, where he worked for the campus newspaper and also for the university Office of Public Information.
After a stint in the AmeriCorps VISTA program introduced him to North Dakota, Zaleski began working for the Devils Lake Journal in 1969. Over the next 18 years, he worked as a general assignment reporter, sports reporter, wire editor, editor and general manager at the newspaper.
He left in 1987 for a job as the editorial page editor at The Forum, where he also wrote a personal column. As opinion editor, his job was to portray the views of the newspaper's management in editorials and to showcase a variety of voices through the page's columns and letters to the editor. Throughout the years, he most frequently wrote about the need for flood control in the Red River Valley.
Zaleski has received a number of top awards for editorial and column writing from the North Dakota and Minnesota newspaper associations, including the Herman Roe Editorial Writing Award.
Zaleski retired from his opinion page role in 2017, but continued working at The Forum in a new role writing an updated history of The Forum and Forum Communications.
Rachel DeKrey
Linotype Operator
Kidder County News/Stutsman County Record/ Steele Ozone
View highlights of Rachel's full interview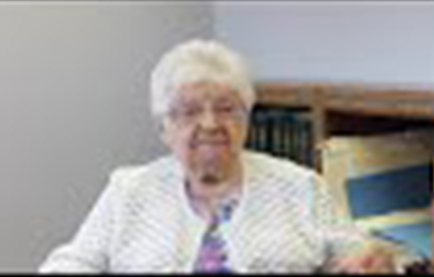 DeKrey (1927-2019) began her newspaper career as a seventh-grader folding newspapers for the Kidder County News. By her freshman year, she was running the linotype and helped keep the newspaper going with Juleen Hanson Cunningham and Verna Semmen Hanson during the World War II years.
"I didn't pick it. It picked me," she said of her newspaper career.
She went on to work at the weekly Stutsman County Record between 1949 and 1952 and helped publish the Jamestown Collegian once a week and then Blue Jay News once a month.
She then returned to her beloved Kidder County. She worked for the Steele Ozone between 1952 and 1956 and then shifted to part time after her first child was born. The linotype expert said the industry changed when it moved to offset.
"I said, 'They've taken out the romance from the newspaper,'" she said.
DeKrey died in August 2019, one month after taping her oral history.
Steve Wallick
Editor
The Bismarck Tribune
View highlights of Steve's full interview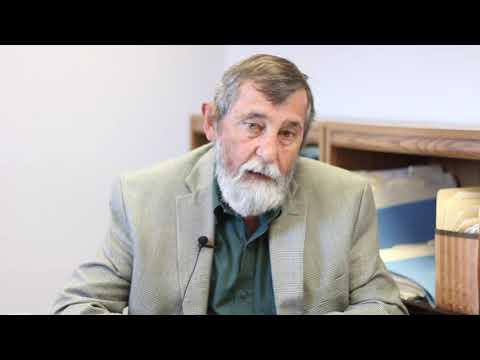 Steve Wallick (1950- ) dedicated 45 years of his life to journalism at The Bismarck Tribune.
Born in Lincoln, Nebraska, Wallick attended the University of Nebraska and pursued a journalism degree with a minor in political science. Growing up in the 1960s, he developed a strong interest in current affairs, politics and government.
After college, he went into the Peace Corps and spent time as an agricultural information specialist in Malaysia. Upon return, he applied for a job at The Bismarck Tribune in 1974 and never left.
Wallick began working as a reporter and copy editor before transitioning to Capitol reporting in 1975 during the era when the Tribune was an afternoon newspaper. He quickly became in charge of the copy desk and front-page design.
During the late 1970s and early 1980s, Wallick experienced the transition of the Tribune moving from a family newspaper owned by the Sorlies to its current ownership by Lee Enterprises.
He became the city editor in 2002 and eventually editor in 2014 and oversaw coverage of major moments in North Dakota history, including the oil boom, Bismarck flooding and the Dakota Access Pipeline protests.
Wallick retired from the editor position in 2019 but continues to write editorials for the paper.
Richard "Dick" Dobson
Vice President
The Minot Daily News
View highlights of Dick's interview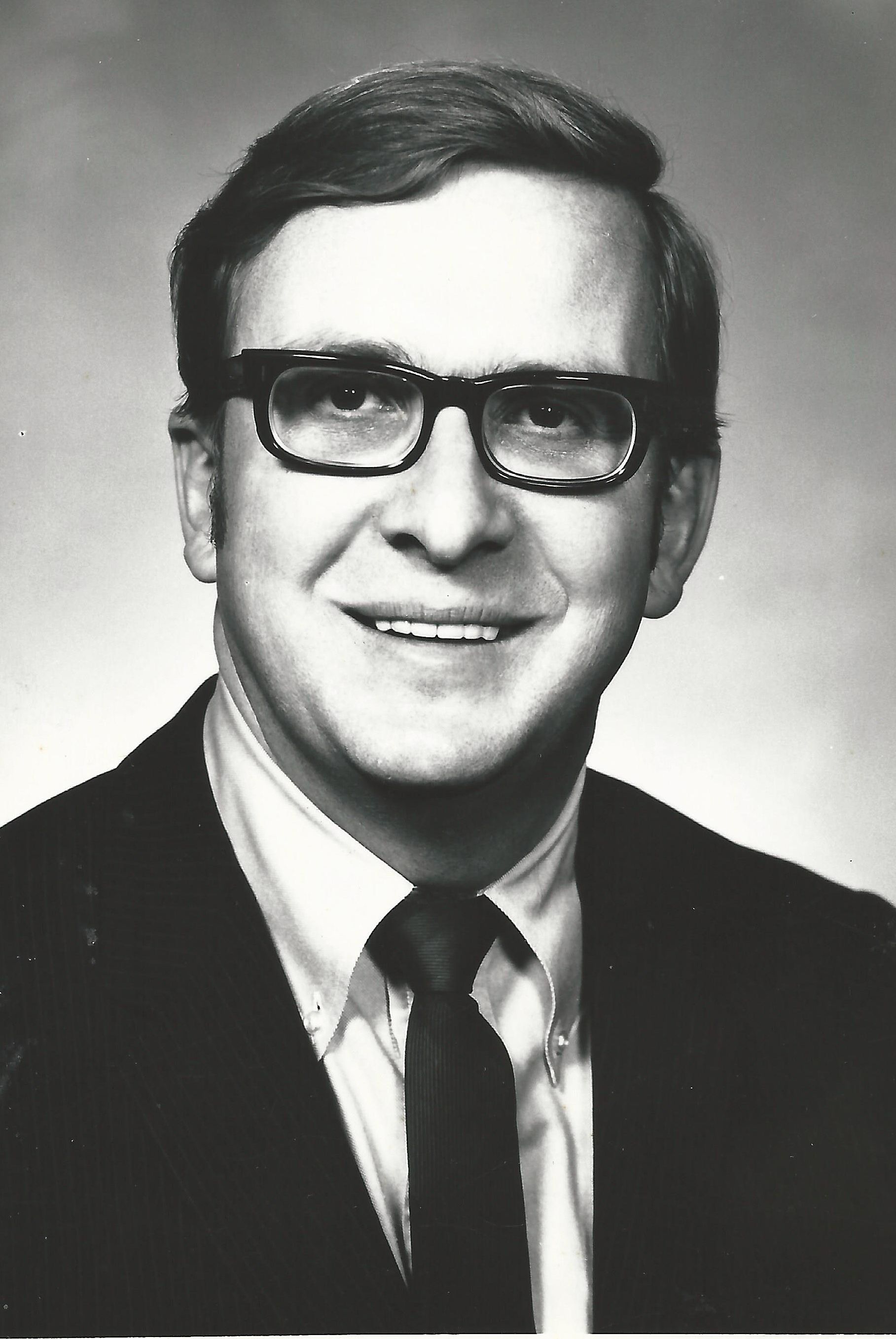 Richard "Dick" Dobson (1935- ) grew up with ink in his blood. His father, Raymond C. Dobson, was born in 1902 in Minnesota and first began working in newspapers in Valley City. Raymond C. Dobson also worked for newspapers in Red Wing, Minnesota, and Chippewa Falls, Wisconsin, before landing at the Minot Daily News in 1921. He would spend 64 years at the Minot paper as a reporter, editor, and owner.
Richard Dobson's interest in newspapers began as a child when he would go to the newspaper office after school and find out what was new in the comics. He also worked as a news carrier starting in his preteen years and worked as sports editor of his high school paper, Minot High Times. He worked summers in the sports department at the Daily News.
Dobson entered the Army from 1957-1960 doing public relations and press releases work. He briefly worked at the Minneapolis Star as a police reporter starting in 1960 before returning to Minot in 1961 to work as a political reporter covering the Legislature. Throughout his career, he also covered a number of national political conventions. From the North Dakota Capitol, he would either call in news back to the Daily News or drop his stories in the mail for the paper to receive early the next morning. He ran a political column called Prairie Perspectives.
Dobson wrote a book called Dick Did It: A Chrestomathy of Political Commentary during the peak of the Watergate scandal.
In 1985, the Minot Daily News was sold to Donrey Media Group. Dobson left the paper soon after. He later formed DAK Publishing with Henry Kelly and Scott Anderson. The company owned newspapers in towns that included Killdeer, Mott and Hettinger starting in the late '80s/early '90s.
Dobson said fairness and accuracy were important to both him and his father during their careers.
Henry Kelly
Editor, Publisher, Owner
Kelly Publishing
View highlights of Kelly's full interview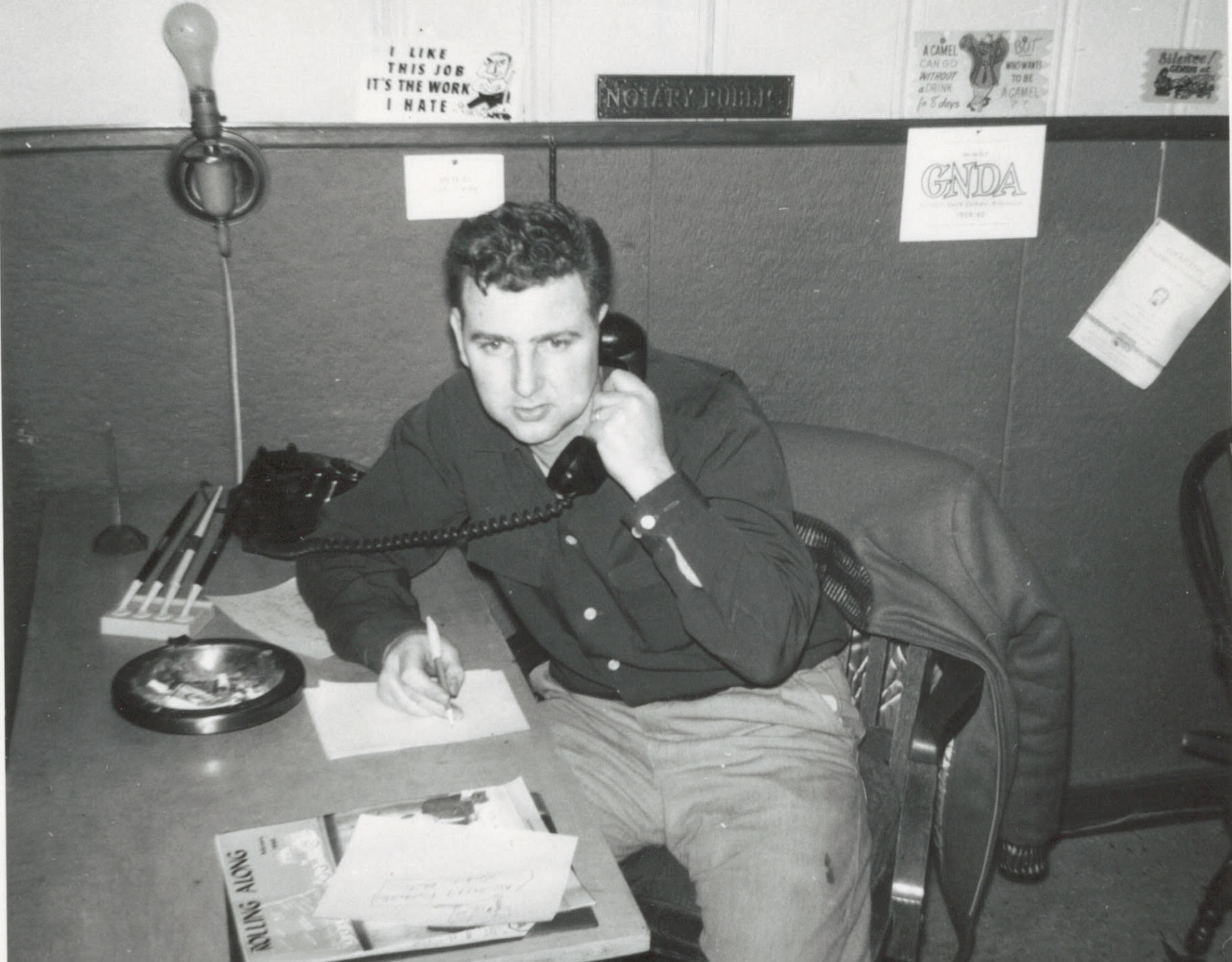 Henry Kelly (1926-) was born in 1926 in Cato Township, Ramsey County, North Dakota. After serving in the Navy during World War II, he attended the University of Minnesota intending to major in forestry. After his new adviser told him that he hadn't taken the right classes, he decided to major in journalism, following in the footsteps of his uncle Harry O'Brien who owned the Walsh County Press.
After college, Kelly worked for the Northwood Anchor in Iowa and the Chaska Valley Herald in Minnesota. He also spent a year at Dunwoody Institute learning how to run presses and linotypes and fix them. His uncle wrote him a letter in 1953 asking him to join the Walsh County Press. Soon after Kelly's arrival, his uncle died, leaving him to work with his aunt Rosamond to run the paper. He was offered a partnership in 1956 and took full control in 1959.
Throughout his career, Kelly eventually was involved in the ownership of nearly two dozen weekly papers and a few shoppers in the Upper Midwest, including in Lisbon, Beach, Belfield, Medora, Killdeer, Bowman, New England, Marmarth, Mott, Hettinger, Linton, Langdon, Hillsboro, Mayville, Gwinner and Milnor. He ran newspapers with his children and partners Scott Anderson and Dick Dobson and was a major influence in many North Dakota communities. He loved to visit his newspapers' towns and write his column, Kelly's Corner.
He was chairman of the Park River Community Development Corporation for many years and a story about his retirement called him Park River's biggest promoter. He retired in 2002 after 48 ½ years at the Press. He now lives in Connecticut.
Kathy Steiner
Editor
Jamestown Sun
View highlights of Steiner's full interview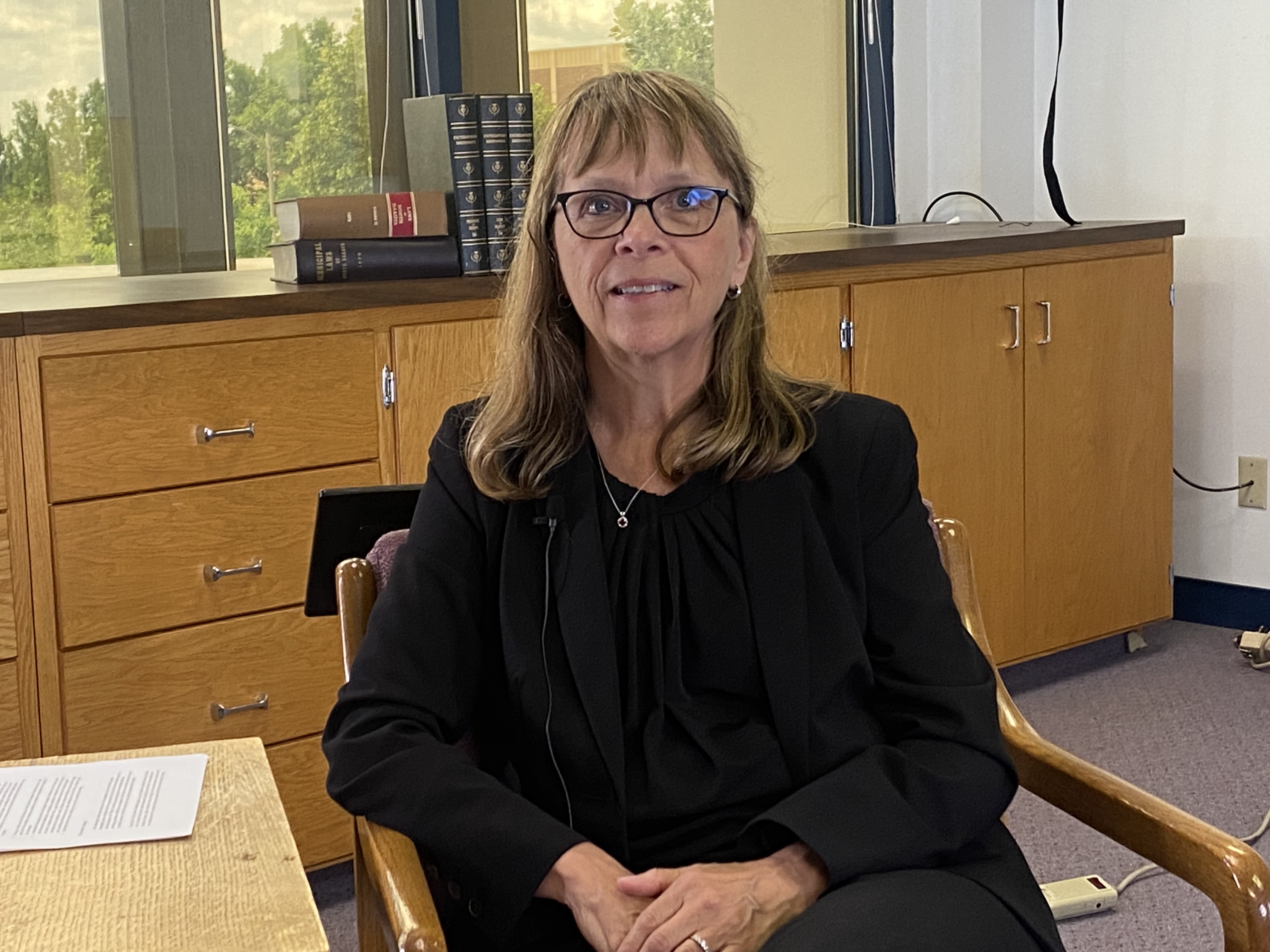 Steiner (1959- ) saw an ad for a reporter opening soon after graduating college and decided to apply just to get experience doing a professional job interview. Forty years later, she's worked in journalism ever since. A native of Valley City, Steiner attended Valley City State and later took graduate classes in mass communication at NDSU. As a child, she loved writing poetry and fiction. She began working for the Valley City Times-Record in 1982 and covered the county commission, park board, and court, along with feature stories. In 1993, she was laid off when the Times-Record changed owners, paving the way for her to begin her long career at the Jamestown Sun. In 1995, she became the Sun's editor, a role she's held ever since while prioritizing community and accuracy.
Trygve Olson
Illustrator/Cartoonist
Forum Communications
View highlights of Olson's full interview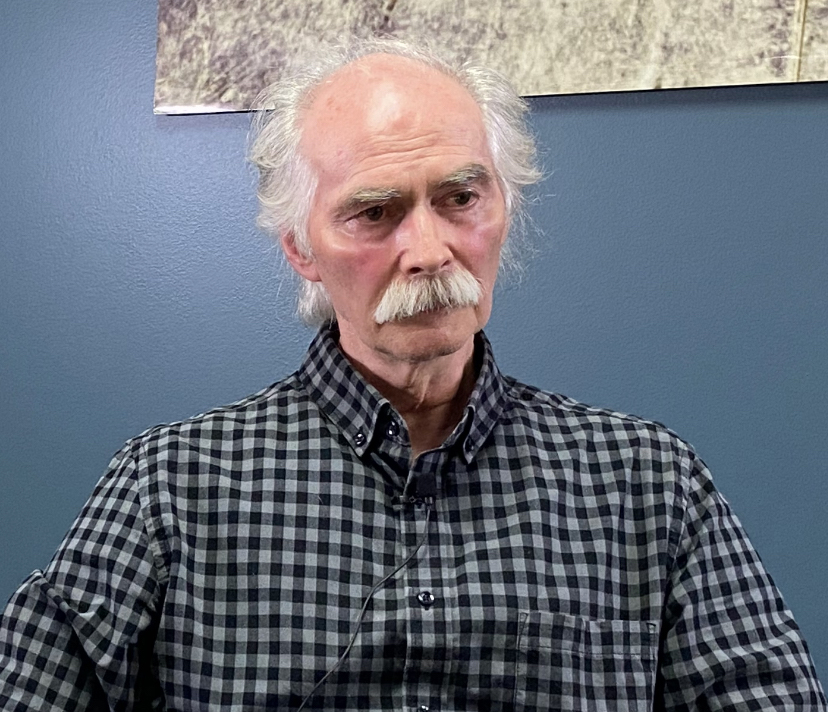 Olson (1950- ) grew up on a farm 10 miles north of Hawley, Minnesota, and was in his mid-30s when he found his calling as an editorial cartoonist. Olson attended Minnesota State University Moorhead and NDSU with the original intent to go into engineering. He was 21 before he began drawing, eventually getting a degree in studio art from St. Cloud State. He worked various jobs before connecting with The Forum. In 1984, his first illustration – a caricature of the Minnesota Twins owner – appeared in the paper. Olson created additional illustrations for the features section before starting his work as an editorial cartoonist. Olson said the best cartoons come "when there's an issue that really strikes you" and take a firm point of view on that issue. He constantly watches and reads the news to spark inspiration for his cartoons. He draws three cartoons a week and has created between 4,500 to 5,000 cartoons throughout his career.
Mike Gackle
Former president
BHG, Garrison, ND
View highlights of Gackle's full interview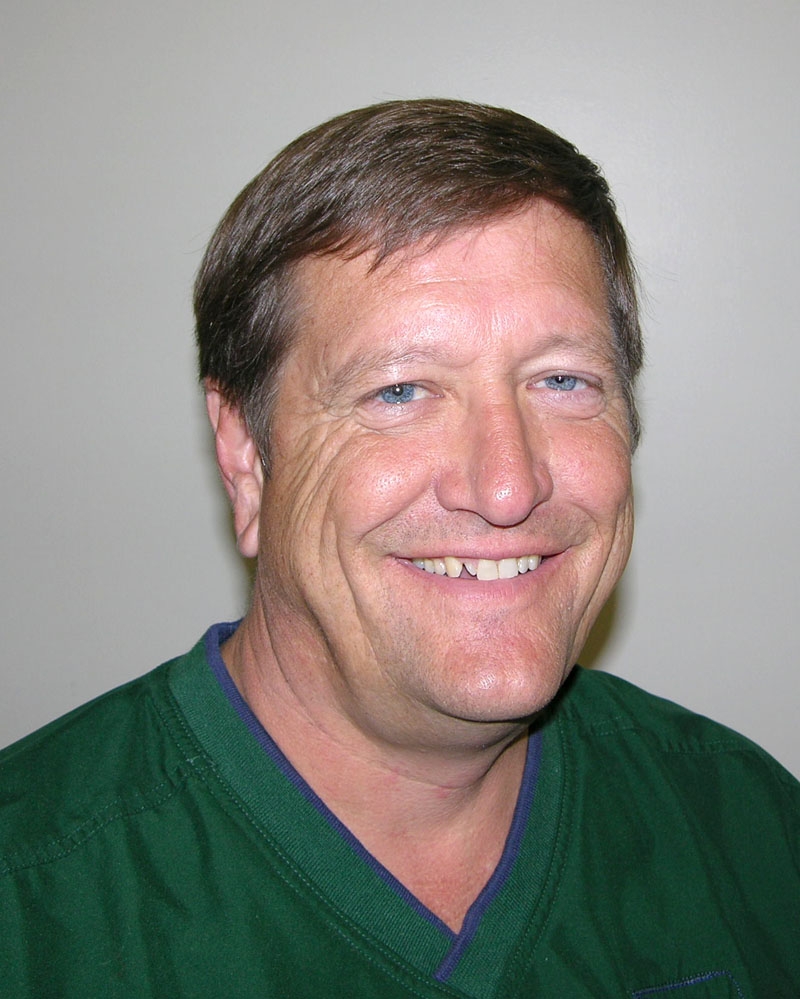 Mike Gackle (1952 - ) was 11 years old when his father put them on the path to becoming one of North Dakota's most legendary newspaper families. In 1963, Don Gackle moved the family to Garrison to take over The McLean County Independent. Mike Gackle got his start in the newspaper business as a teenager working as a printer's devil and shooting on the stat camera. After attending NDSU, Dakota Business College and UND, Gackle put his business and management skills to work and began working as president of BHG in 1976. Working alongside his mother, Phyllis, Gackle did bookkeeping, streamlined accounting and billing practices, and implemented advancements in newspaper technology. As the company grew over the years to include 11 newspapers, screen printing and two shoppers in western North Dakota, the Gackles emphasized the "family" of family-owned newspapers. Gackle served as president of NDNA in 2004 and also served on the NDNA Education Foundation board. He has long been active in the Garrison community. After nearly 60 years of Gackle ownership, the last of the BHG newspapers were sold in 2022.
Credits
Oral Histories of North Dakota Journalists is a joint project of:
The North Dakota Newspaper Association
The North Dakota Newspaper Association Education Foundation
The State Historical Society of North Dakota Foundation
Interviews by: Teri Finneman, Multi-media reporting specialist
Videography by: Forum Communications Co.
The full video interviews are preserved and are available for viewing at the North Dakota State Archives at the Heritage Center. Additional oral history interviews will be added to the collection as they are completed.