State's top newspapers recognized
6/05/19 (Wed)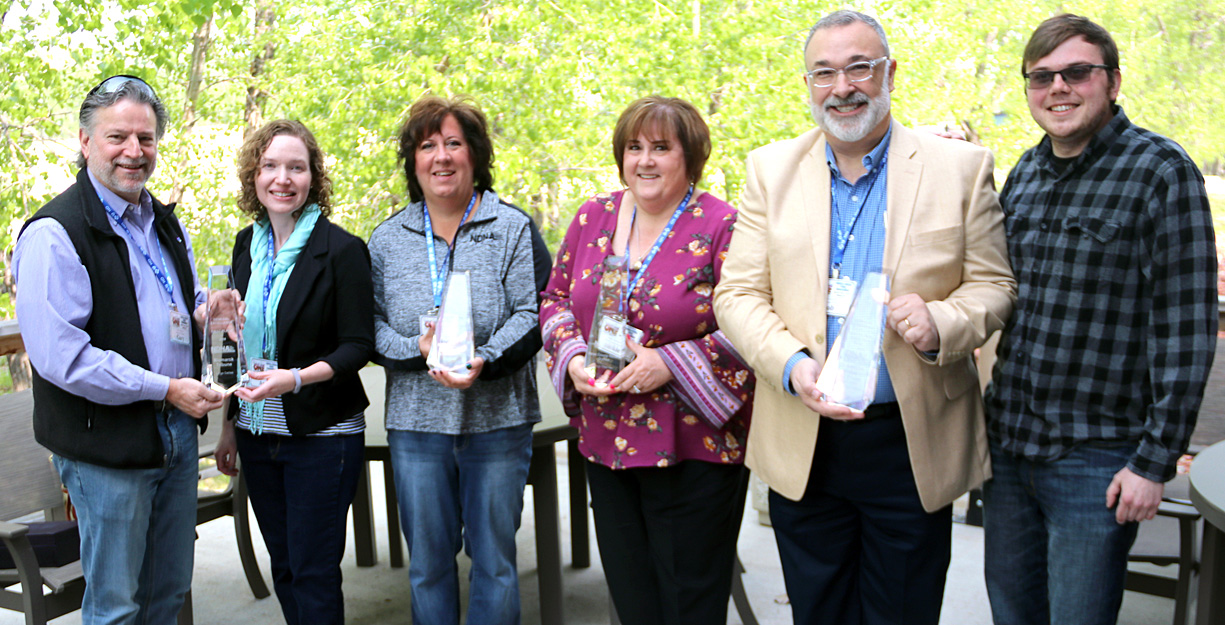 Photo: Accepting General Excellence awards at NDNA's annual Better Newspaper Contest are Gary Adkisson and Amy Dalrymple of The Bismarck Tribune; Karen Speidel of the News Monitor; Jackie Thompson of the Walsh County Record in Grafton; and Bob Carruth and Iain Woessner of the Dickinson Press. Not pictured: Walsh County Press of Park River.
=====================================================================================
North Dakota's top newspapers by circulation class are The Bismarck Tribune, The Dickinson Press, The Walsh County Record of Grafton, The News Monitor in Hankinson and the Walsh County Press of Park River.
They were the first-place winners in the general excellence category of the North Dakota Newspaper Association's annual Better Newspaper Contest.
Judging of general excellence covers all aspects of the newspaper.
The awards were handed out May 31, 2019 during NDNA's 133rd annual convention, held in Medora.
Judges called The Bismarck Tribune a "beautiful newspaper with great writing, coverage and production." The Forum of Fargo-Moorhead was second and the Grand Forks Herald third in general excellence for large dailies.
For small dailies, judges called The Dickinson Press a "great newspaper." The Daily News in Wahpeton was the second place winner, The Jamestown Sun was third and the Williston Herald received honorable mention.
The Walsh County Record is a "very good newspaper on its way to being excellent," said judges of large weeklies. Second place went to the McKenzie County Farmer of Watford City; third place to The Journal in Crosby; and honorable mention to the Bottineau Courant.
For medium sized weeklies, judges said the News Monitor "excels in news reporting, photography, and local opinion." Second place went to The Hillsboro Banner and third to the Leader-News of Washburn.
For small weeklies, the Walsh County Press won for "good news coverage and good use of resources." Second place went to Parshall's Mountrail County Record and third to the New Town News.
For further information, contact Steve Andrist,
NDNA Executive Director,
866-685-8889 or stevea@ndna.com